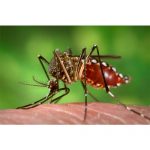 Characteristics
Appear to have black and white strips on legs and body.
Complete metamorphosis from egg , larval, pupa and adult is about 7 days.
Habits
Aedes Mosquitoes breed particularly in clean stagnant water and biting usually occurs in early morning and evening time. They are the main culprit of Dengue Fever and Dengue Haemorrhagic Fever and currently there is no drug or specific treatment for it.