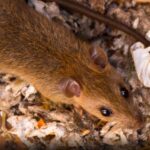 Characteristics
Brown Rats can grow up to 40cm in length! Many kids scream when they see a brown rat! Its a monster!
Brown Rats are usually brown in color, as the name suggest.
Habits
Although Brown Rats are huge in size, they are known to be very flexible and agile when it comes into gaining entry into your premise. As with all rats, they multiply extremely fast. If you spot any brown rats in your area, quickly call a pest control company in to help you before its too late!