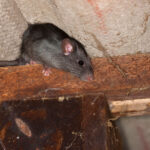 Characteristics
Roof Rat can grow up to a size of 25-28cm in length. They can be a real menace and strike fear especially into the restaurants and cafe owners.
Roof Rats are usually brown or black in color.
Fun Fact: Did you know that roof rats can reproduce extremely fast? In a given month, they are known to give birth up to 10 baby rats! They are also known to carry different diseases with them so its best for you to get rid of them once you've spotted them at home or at your work place.
Habits
Roof Rats are experts at climbing to gain entry into your premise. Nothing is too difficult (too high, too low, too small) for them. So if you spotted any holes near your wall/fence or near entrance to your premise, give us a call. They may have already infiltrated into your premise!