Cockroaches
Cockroaches breed fast, are hard to kill, and have an uncanny ability to get anywhere. They feed on food waste, and are able to creep through the slimmest cracks and holes. They can carry diseases and bacteria, and are a nuisance in any home, food centre or restaurant. They are also incredibly hard to eliminate completely.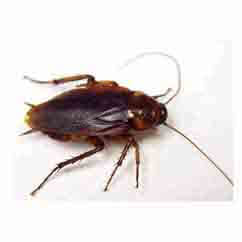 American Cockroaches (Periplaneta Americana)
Characteristics
Size – Up to 48 mm long
Colour – Reddish Brown in colour
It is omnivorous and will feed on almost everything we eat. Adult can live up to 1 year and can produce an average of 150 young.
Habits
American Cockroaches are active in sewers, kitchen cabinets, crawl spaces, tunnels and basements where the environment are damp and warm.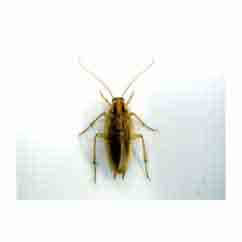 German Cockroaches (Blatella Germanica)
Characteristics
Size – Up to 12mm long
Colour – Brown
The female may produce up to 4 to 6 cases during her lifetime, each case containing 30 to 40 eggs and can live up to 200 days.
Habits
German cockroaches do not like motion and avoid light in the day and can be found in kitchens of restaurants and toilet areas. They spent most of their time hiding in cracks, under stoves, refrigerator in kitchens. If you see them during the day, you probably have a larger population than you expect.